A David Best Design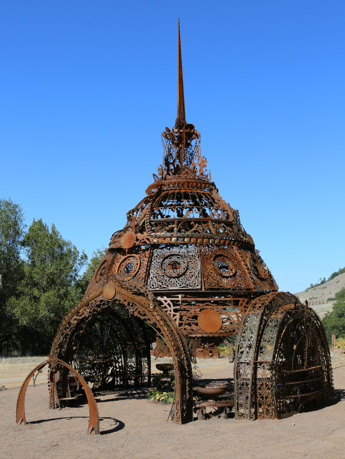 The Voigt Family Sculpture Foundation is proud to sponsor a unique project by internationally known Temple Builder David Best. David is renowned for his ephemeral temples, wooden structures that live for months, weeks, or sometimes just days, and are then burned to release emotions and generate community.
This is his first permanent steel structure. It incorporates David's brilliant blending of imagery ranging from Celtic to Hindu to European Gothic. The Temple of Remembrance is massive! More than 34 feet high and exceeding 25 feet in diameter, it includes tons of welded steel and features the intricate designs and detail David's fans have come to expect.
While it will not be burnt, the steel's reaction to wind and weather and the welcome addition of handwritten flags, photos and mementos will transform it year by year.
The location could not be better! The outdoor sculpture at Paradise Ridge Winery is a gift from the owners, Walter Byck and his family. Seven days a week, the public can experience great art in nature.
Please consider financially supporting this lasting project, which will grace the foothills of Northern California for many years to come. Plans are underway for events and programming that allow and encourage us to gather and experience release and renewal.
The Voigt Family Sculpture Foundation is a 501(c)(3) organization. Please like us on Facebook or email newtemple@voigtfoundation.com to learn how you can help.