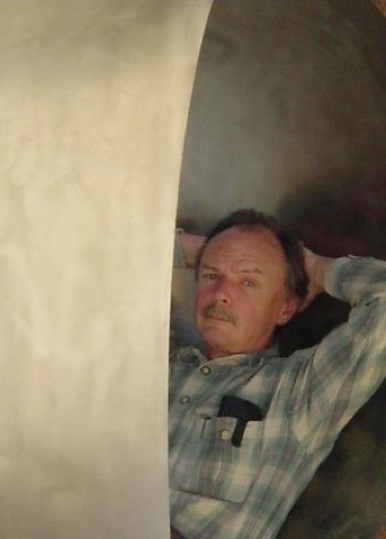 ALLAN ALFRED VOIGT
1941 – 2011
Al Voigt died of lung cancer (he had never smoked) on Friday, May 13, 2011 surrounded by friends and family. Al was a Renaissance Man for the 21st Century, providing visionary and inspirational leadership while founding a series of successful technology companies, creating an art foundation and raising a family.
He was always a leader, but more than a leader. If Al knew you, he wanted to help you, wanted to encourage you to reach for your dreams and do things you didn't know were possible. What was truly special about Al was how many things he did well, as an artist, engineer, businessman, citizen and friend. A prodigious thinker, Al was never resting on his laurels; he was always looking ahead to the next idea.
Al's true gift was an inherent and honed skill at looking deeply into a problem and understanding its fundamentals. He loved the elegance of a system well designed, from tiny servos to Stinger missiles to AA fuel dragsters to the "Vector," a human-powered vehicle (recumbent bicycle) that shattered land speed records and was featured on the cover of Scientific American. His emphasis on accurate and extensive computer modeling and prototyping allowed him to predict how design changes would affect performance and led to a "simulate many, build one" design philosophy that made his inventions and companies successful. A brilliant engineer with an endearing quirky side, if he couldn't find technology that worked to his standards, he would invent it. Over his life he generated more than 40 patented inventions.
Born in Staten Island, New York, Al moved to Anaheim when it was farmland and Disneyland was just a dream. Al was fortunate enough to grow up in the hotrod days of Southern California. He was always a doer not a watcher, building his first car long before he could (legally) drive. He obtained a BS in Mechanical Engineering from Cal Poly and an MS in Systems Engineering from CSU Fullerton. After college, Al joined General Dynamics where he quickly distinguished himself as an exceptionally creative engineer, and led an industry-wide transition to electric control systems.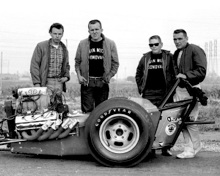 On nights and weekends he designed and built AA fuel dragsters for the Beebe Bros racing team, the winningest team on the West Coast at the time. He also indulged an interest in furniture by designing and building whimsical abstract chairs. His later art incorporated his studies in the spatial relationships between seats and seat backs, resulting in abstract metal sculptures that were also comfortable places to sit.
Al met his wife Judy in 1968 on a ferry when they were both on holiday in Europe. From that moment on they forged a deep and powerful alliance of love, family, travel, business and art. They moved to Geyserville in 1980 where Al, Judy and John Speicher created Versatron, the first in a series of technology firms that provided hundreds of jobs and economic development opportunities. The Voigts were generous employers and business owners, supporting the Healdsburg Science Fair among other good causes. A generation of engineers who came to work for the Voigts are still in Sonoma County, working in companies that he started and contributing to the community in many ways.
Al was a key figure in the aerospace industry, playing important roles in the development of technologies designed to keep our soldiers safe. After the sale of Sonoma Design Group, a technology firm founded by Al, Judy and their son Che, the Voigts created the Voigt Family Sculpture Foundation. The mission of the foundation, to place sculpture in publicly accessible places, has resulted in a significant boost to public art in Sonoma County. The foundation has placed more than 20 works of art throughout the county, notably along Healdsburg's Foss Creek Pathway, at Santa Rosa Junior College, Santa Rosa, Cloverdale and Petaluma.
Al put a sustained effort into developing his ranch from a rural patch of dirt in Geyserville when he bought it in 1971. He built a custom home for his family, created or acquired many works of abstract sculpture, and built a state-of-the-art metal sculpture workshop used by many artists over the years. Al also put in 3.5 acres of Zinfandel, reclaiming a vineyard planted in the hills around the turn of the last century. It gave him great satisfaction to watch sun and earth turn into grapes, to juice and then to wine to enjoy and share.
Al is survived by his wife, Judy Voigt; his son Che (wife Cairenn); his daughter Shanta (husband Eric); two grandchildren, Logan Allan and Katherine Annabelle; his brother Arnold Voigt; and many good friends, including close collaborators such as Doug Unkrey and John Speicher. Al's family was never merely nuclear; it extended to many friends and collaborators who were inspired by his quiet confidence and thoughtful engagement with others.
A celebration of Al's life was held on June 11, 2011 in the garden at the Villa Chanticleer in Healdsburg. In lieu of flowers, the family suggests that well-wishers help further Al's vision of public art by supporting the Voigt Family Sculpture Foundation, a 501(c)3 charitable organization, at 400 Breezewood Drive, Geyserville, CA 95441.