JUILLIARD PARK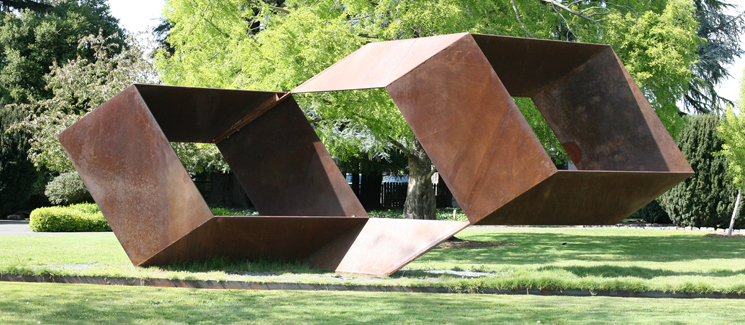 This magnificent work by Chuck Ginnever is composed of two open parallelograms – a signature form of Ginnever – connected by a top flange, the space between them implying another parallelogram. New York Times Art Critic Grace Glueck said of the work when it was unveiled in 1983, "Each of the two real forms, depending on the spectator's point of view, seems to fly off at an angle to the other, or then again follow closely the other's pitch. It's a superb aerial act, made breathtaking by the massivity of the forms."
Hangover II is making its first appearance on the West Coast, thanks to a unique collaboration between the Voigt Family Sculpture Foundation, the city of Santa Rosa, California, and the Arts Council of Sonoma County. The work has been installed in Juilliard Park, one of Santa Rosa's oldest parks. It is on loan from Ginnever, and has been placed in honor of Steven Oliver, a well-known and well-respected leader in the art world.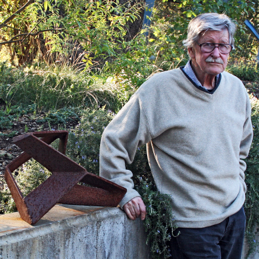 The sculpture was trucked to Santa Rosa and installed in November, 2006. A reception was held in December, to thank Oliver for his contributions to public art, and to mark the creation of a downtown arts district in Santa Rosa.
Assisting with the installation of Hangover II was a way for the Voigt Family Sculpture Foundation to extend our vision to excite, inspire, and educate by promoting the placement of sophisticated and diverse types of sculpture, created by artists of international renown, in publicly accessible places in Sonoma County, with a special emphasis on large outdoor works.
HANGOVER II
This work of art is on loan, and is for sale. For more information, contact the artist.