FOUNDATION PROJECTS
LACKAWANNA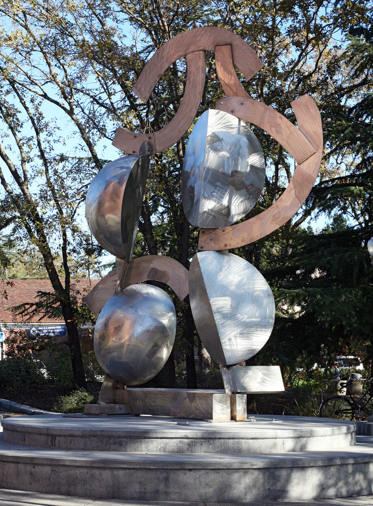 This sculpture by William Wareham was installed in November 2008 at Santa Rosa Junior College, just outside the Frank P. Doyle Library. Lackawanna is composed of stainless steel arcs and quarter-spheres. The work was purchased by the Voigt Family Sculpture Foundation, restored at the Voigt family ranch and is on loan to the college. Sculptor Wareham states: "To activate space with steel is a challenge. I try to resolve this with both knowledge and intuition. I rework and change the forms to get a more dynamic relationship, interesting intervals, tension in the negative volumes or contrasting scale; all with the purpose of bringing a great sense of visual delight to our lives."
ENCIRCLED VOID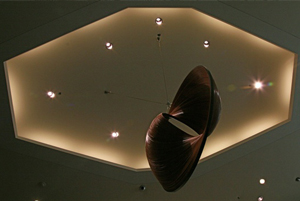 Encircled Void is a kinetic sculpture by Ned Kahn. The sculpture is a large and heavy wooden turbine, but is precisely engineered and installed, so that it rotates with the slightest movement of air from the heating and cooling vents in the new Bertolini Student Services Center at Santa Rosa Junior College.
ANNUAL RING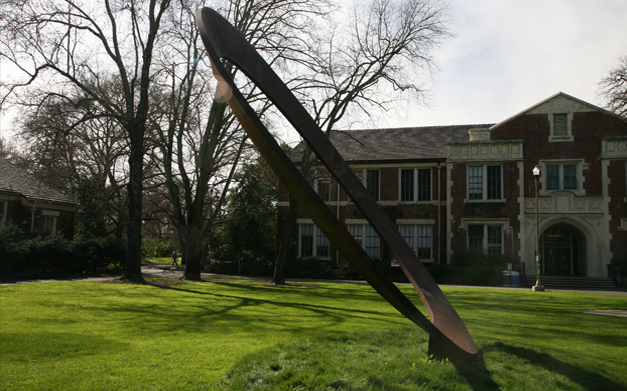 Roger Berry's Annual Ring is a celebration of astronomy and mathematics. The 19-foot ring is placed precisely on a lawn at Santa Rosa Junior College, to take advantage of the movement of the sun. The sculpture is on loan to the college. The sculpture required precise and careful engineering in order to be properly placed. Click above for the podcast chapter on Annual Ring.
I'LL NEVER TALK OUT OF TURN AGAIN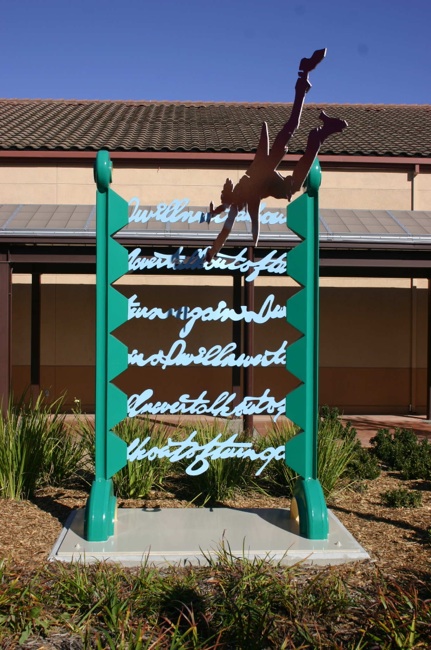 This charming and lively work of art is by Robert Ellison and is installed at the Petaluma campus of Santa Rosa Junior College. Composed of welded and painted steel, it clearly demonstrates Ellison's skill in his medium. It is part of the collection of the Voigt Family Sculpture Foundation.